Competito released a new update this morning that allows selected plans to see when a competitor runs ads on Facebook. Why? Because Facebook Ads may be an important part of your competitors' marketing strategy.
If your competitors' are putting money into paid advertisements on Facebook, you must know about this.
A few key questions to ask are:
How long have they been running?
Are they running on Instagram and Messenger too?
Do they run various types of Ads?
Do they prioritize a particular message?
What are the landing pages for these Ads targeting?
Which countries are these Ads running for?
Getting the answers to these questions can help influence your decisions around paid traffic and give you another insight into who your competitors are targeting.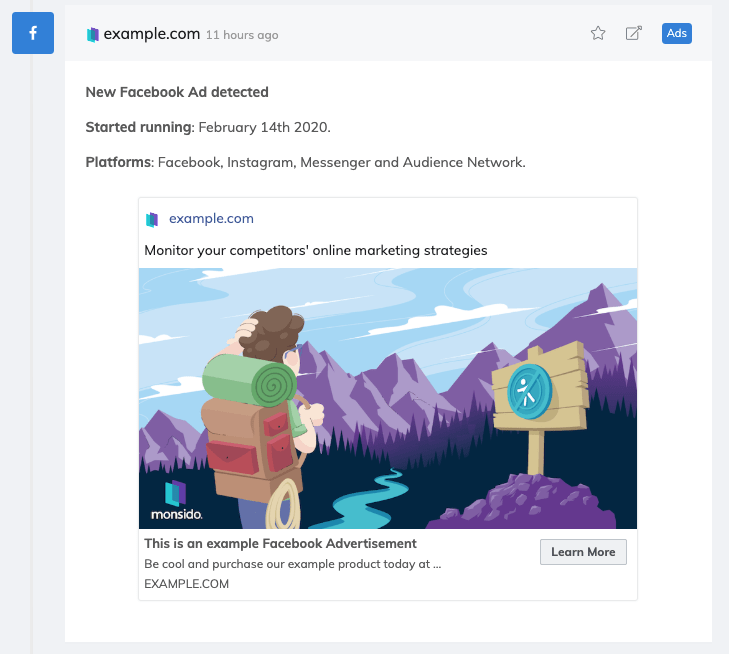 Paid traffic can be important to any online business because it can generate new inbound inquiries. However, if you do it incorrectly you could spend large amounts of money with limited returns. Getting information about your competitors' successes or failures around paid traffic can help you not make the same mistakes.
Feedback
As usual, we love to hear feedback from our community. Please keep us informed of how you get on with our Facebook Advertisement detection. If you have any great ideas to improve them. We would love to hear it!